Celebrities with Veneers
Nov 17, 2021
by Dr. Marc Anderson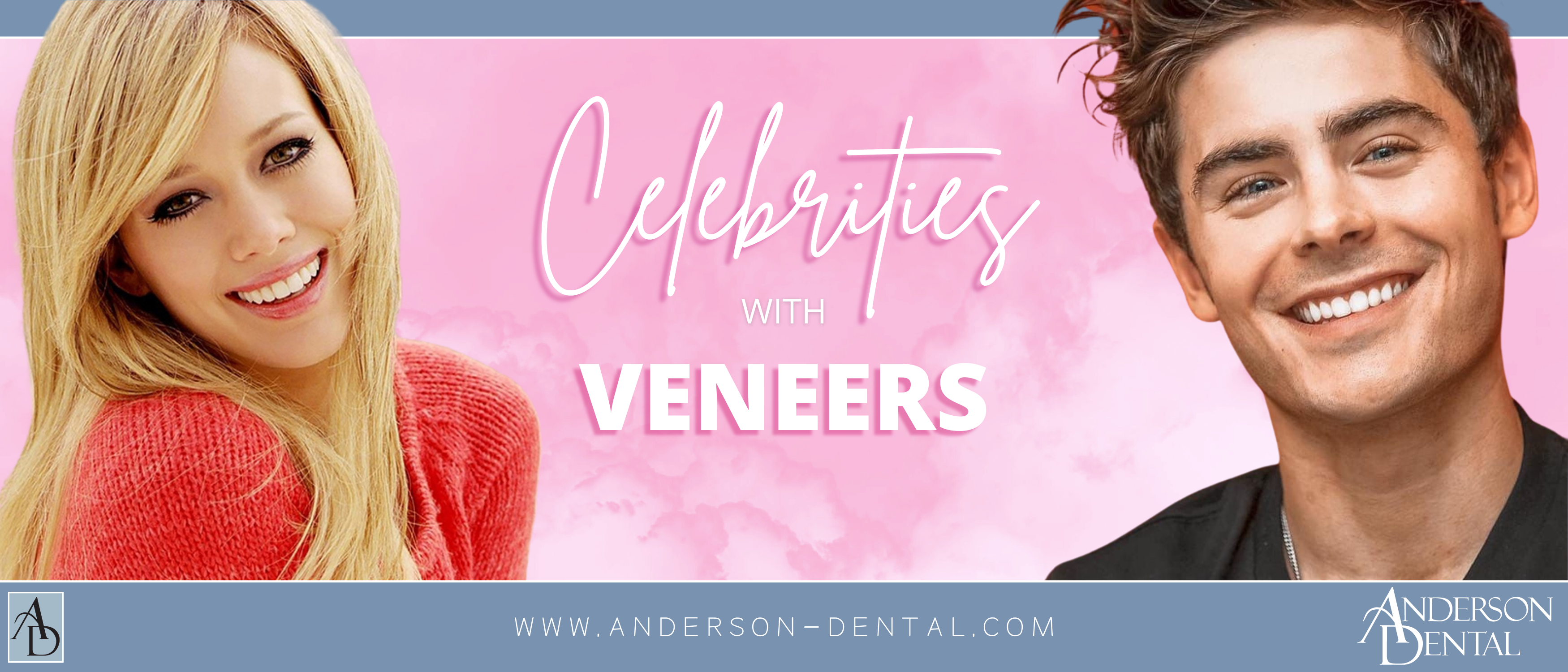 Dental veneers
are a well-established cosmetic dental treatment that can totally remake your smile. They're one of the many
dental services
we provide at Anderson Dental that can help make your smile radiant and attractive. In fact, porcelain veneers contribute so much to the quality of a smile that many celebrities opt for this state-of-the-art treatment.
One of the great things about dental veneers is how they're pretty hard to notice without before and after veneer photos. That's a big reason celebrities ask for veneers, along with their relative affordability, well-made quality, and ease of maintenance. See how many of the following celebrities are suspected of having veneers!
---

1. Celine Dion
Though she's perhaps most famous for her song "My Heart Will Go On" from the blockbuster Titanic, Celine Dion's teeth are also noticeable for how perfect they are, thanks to veneers. Before the veneers, Dion's teeth were discolored and crooked, but with veneers, she perfected her smile and became a star.
---

2. Chris Rock
After starring in Lethal Weapon 4, Chris Rock reportedly spent $150,000 on a total mouth makeover, including a set of gleaming white veneers. He was able to fix his tooth gaps and misaligned teeth into a picture-perfect smile.
---

3. George Clooney
George Clooney has been named "Sexiest Man Alive" by People magazine not once, but twice, thanks in large part to his confidence and killer smile. However, he wasn't born with his perfect smile—he has strong porcelain veneers to thank for his gleaming grin.
---

4. Hilary Duff
If you or someone you know watched the Disney Channel in the early 2000s, you probably remember the star of Lizzie McGuire, Hilary Duff. After the show's run ended, she launched a music career, which is where she chipped a tooth and decided to get veneers. Dental veneers provided her with a more uniform smile and even lightened her teeth a few shades, which is a double win!

---

5. Jim Carrey
Jim Carrey is one of the most legendary comedic actors of his generation, appearing in everything from In Living Color to Ace Ventura: Pet Detective and even more somber fare like Eternal Sunshine of the Spotless Mind. His teeth are spotless too, thanks to his porcelain veneers, which have transformed his chipped-tooth smile into a confident beam.


---

6. Miley Cyrus
From the small screen to big stadium stages, Miley Cyrus knows how to be in the spotlight. Her dental veneers, which she got around the age of 17, help cover some alignment issues, made her teeth look longer, and brightened them considerably. A total smile makeover!
---

7. Morgan Freeman
A formidable actor, Morgan Freeman is known for his starring roles in Driving Miss Daisy, Shawshank Redemption, and more. Over his long career, he began noticing his teeth beginning to discolor and gaps between them widening. With his veneers, Freeman corrected those imperfections, and now he looks younger.
---

8. Nicolas Cage
To break out of the art-film market and step into blockbuster roles, Nic Cage knew he'd need to correct his non-uniform, yellow, and crooked smile. Porcelain veneers helped his appearance, and the newfound confidence helped him get major roles like his star turn in Moonstruck!
---

9. Tom Cruise
Tom Cruise is famous for performing his own stunts in action thrillers like Mission: Impossible and Top Gun. He needed some help—via veneers—to fix his misaligned and stained teeth into the pearlescent smile he now sports.




---

10. Zac Efron
After his starring role in High School Musical, Zac Efron opted to redo his smile with veneers to close his front-tooth gap and brighten his teeth. The teen heartthrob was already very loved by thousands of girls around the country, but when he debuted his new "million dollar smile" in 17 Again, even more people began to swoon. Unleash your inner Zac Efron with dental veneers!

---
Dental Veneers in Royal Palm Beach
You don't have to be a celebrity to have a beautiful smile that's ready for the red carpet. No matter if you're looking for porcelain veneers or composite veneers, our experienced cosmetic dentists at Anderson Dental can give you the pearly whites of your dreams!
Contact us
online or stop by our
cosmetic dentistry
office in Royal Palm Beach or Lake Worth to talk to us about our custom made dental veneers today! If you need any other cosmetic services such as
teeth whitening
or
dental implants
because of yellow natural teeth or even chipped teeth, the experts at Anderson Dental are here for you! Don't worry,
our reviews
speak for themselves!