What to Expect When You're Expecting Veneers
Aug 16, 2021
by Anderson Dental
If you're unsatisfied with your smile due to tooth discoloration, minor chips, holes, or pits, or misshapen teeth or uneven spacing, veneers can be an affordable and good-looking solution. They can be applied by our team at Anderson Dental in only two visits, and they'll last up to ten or fifteen years if you treat them right! So if you're thinking about getting veneers, let's break down the process so you know what to expect.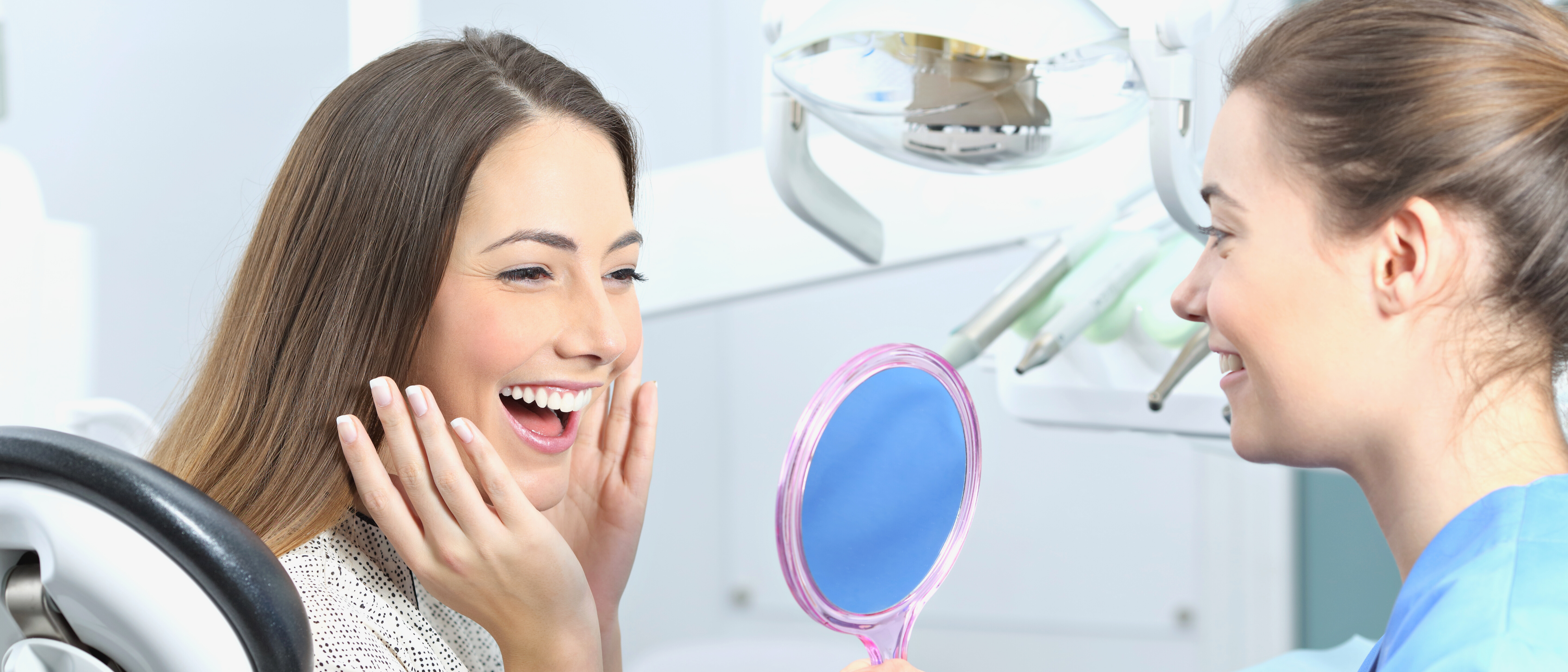 What are Veneers?
Veneers are custom-made, extremely thin and strong plates of porcelain or plastic that are glued to the front of your teeth to improve their appearance and color. Veneers cost less and are less invasive than crowns, bridges, or other types of cosmetic dentistry, and so are a great choice if you have minor tooth problems that you'd like to fix affordably.
Usually, veneer procedures require little to no anesthesia, and are applied in two visits spaced a few weeks apart. They're strong and durable enough to last ten or fifteen years, and since they don't stain, they're a great solution for dark teeth. New manufacturing techniques have allowed veneers to copy the translucence of natural teeth, so they look even more natural than ever before!
Before You Get Veneers
When you choose Anderson Dental to apply your veneers, the first thing we'll do is have an appointment to discuss your options. We'll take a look at your teeth and ask about your habits to make sure you're a good candidate for veneers, since not everyone is.
Next, we'll give you some "try-in" veneers the same color as the permanent veneers you'll have, so you can make sure you like the color. Be sure to look at your try-in veneers in all sorts of light, since we can't change the color once we've applied the permanent veneers!
Buffing the Teeth and Temporary Veneers
To prepare your teeth for the application of veneers, your dentist will remove 0.5mm to 1.0mm of tooth enamel by gently buffing the surface of your teeth. Then, we'll take a mold of your teeth to model the veneers after, which is when we'll ask about any changes you'd like made to your smile.
While you wait for the permanent veneers to be made, we'll provide you with temporary veneers to wear. If you notice any other changes you'd like to make, let us know at this stage as well. We'll translate those changes to your permanent veneers as we make them to give you the perfect smile.
Bonding the Permanent Veneers to Your Teeth
A few weeks later, we'll have another appointment to bond the permanent veneers to your teeth. We'll remove the temporary veneers and double-check the veneers' color by attaching them with water or glycerin. Then, we'll clean your teeth and apply a glue, then the veneers to make them bond permanently to your teeth. We harden the glue with a light beam and send you on your way with your brand-new smile!
How to Care for Veneers
You can expect your teeth and gums to be sore for a few days after getting veneers, or tooth sensitivity from the glue, so make sure to have aspirin on-hand for a few days. If the discomfort continues, be sure to give us a call for a follow-up appointment.
Take care of veneers just as you would regular teeth: brush them twice daily, and floss regularly. Avoid chewing foods that might chip your teeth. If you take good care of your veneers, they can last up to twenty years! Eventually, regular wear will take its toll, and you'll have to get your veneers replaced. At that time, give us a call to set up an appointment for a new set! We can replace one veneer at a time as well, in case of breakage.
Make a Veneer Appointment in Royal Palm Beach or Lake Worth
When you're ready to brighten up your smile, come to one of Anderson Dental's locations in Royal Palm Beach or Lake Worth! Our dentists are experts in applying and refreshing veneers. We have porcelain veneers that are high-quality and long-lasting, without breaking the bank!
Begin your dental veneers process today! If you have any questions about any sort of
cosmetic dental work
or dental services including dental crowns, dental bonding,
dental implants
, teeth whitening, smile makeovers, or anything else, give us a call or
contact us online
! You can also stop by one of our dental offices in Royal Palm Beach or Lake Worth to
schedule your appointment
and speak with one of our expert cosmetic dentists!